Fishing options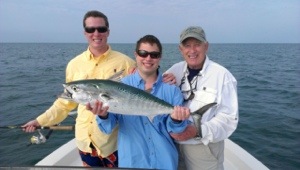 Southwest Florida offers a huge variety of gamefish to pursue; from chasing grouper and snapper on the offshore wrecks and reefs, to casting for snook and redfish in the expansive backcountry waters. As the seasons change, so do the fishing opportunities in Naples. These ever changing opportunities are what make my charter service special. When you first begin your search for a Naples fishing charter, you will notice there are plenty of options. Many guides offer either offshore or backwater fishing. I, on the other hand, offer a chance at both offshore and/or inshore fishing. My boat, a new Dorado 23, is very capable of effectively fishing for many species in a variety of scenarios. I have spent a lifetime on the water and know what types of fish to pursue and when and where to pursue them.
My offshore trips are within 9 nautical miles of the coast. During the fall and winter months, the gag grouper and mangrove snapper fishing are highly productive. Cooling water temperatures and shortening days trigger the gag grouper migration. The grouper begin showing up in good numbers in early October. When targeting mangrove snapper, live bait and chum make all the difference.  This species of snapper is plentiful year round.  The use of live bait sets my charter fishing service apart from most other offshore charters. I take time each morning (typically before you arrive) to net live bait. Live bait allows us to catch more and bigger fish than possible with dead frozen bait.
Backcountry fishing is another option for your charter. Again, the use of live bait sets my service apart from the "other guys". I also run a little larger boat than most, which makes the ride to and from the fishing areas much more comfortable. Depending on the time of year and water temperatures, we can pursue a huge variety of fish. Snook are the most popular fish to target in the backcountry, but redfish, trout, and even large sharks and tarpon are available at certain times of the year.
My expertise in both offshore and backwater fishing makes the Naples fishing charters I offer unique. My boat and gear are top quality and I take immense pride in showing you a great day on the water.